Asbestos can be found in about 3,000 products and here is a list of places and materials.
In the list, we take into account the connection that exists when our laboratory receives material for asbestos analysis, the list can not be considered complete but is a living document.
Asbestos is found in building facades and roofs, but also occurs inside buildings. In fire-damaged buildings, care should be taken as asbestos (if any) may have been released.
Accredited asbestos analysis
Do you want to analyze a material? We analyze solid materials, dust and collection samples, air samples and also water if there is asbestos. 
Alkali protection
Material
Base layer for plastic mat
Product type
Floor mat
Reinforcement
Material
Slabs, ducts, plastic and floor tiles, PVC carpet
Product type
Plastic material, plugs, plaster, asbestos cement
Fire protection
Material
Steel structures, ventilation systems, ventilation ducts and ventilation pipes, garbage rooms, garages, boiler rooms, protective clothing against heat, and more.
Product type
Asbestos fabric, asbestos cardboard, spray asbestos, asbestos silicate boards, asbestos cement boards, asbestos cement.
Noise reduction, noise insulation
Material
Sprayed surface layer, floor tiles
Product type
Spray asbestos, boards (porous), suspended ceiling boards, acoustic plaster, plastic mats.
Ships
Material
Fire protection equipment, insulation, coating, paint, plastic.
Product type
Fire protection, insulation, sound insulation, electronic insulation material, paint, plastic, floor coverings, taps, winches, valves, flanges, anchor winches, gaskets, sleeves and bearings.
Facade, wall and ceiling
Material
Asbestos cement, fix and joint, plaster/mortar (as an additive).
Product type
Tiles, boards, fix and joint, mortar.
Fillers
Material
Paint and plastic.
Product type
Paint, plastic.
Ceramics
Material
Fix and joint, seal.
Product type
Paint, glue (so-called black glue, asphalt glue), coating, putty.
Condensation insulation
Material
Ventilation ducts, pipes.
Product type
Heat exchanger.
Ventilation
Material
Asbestos cement.
Product type
Exhaust ducts, pipes.
Thermal insulation
Material
Pipes, boilers and steam boilers, ventilation systems.
Product type
Magnesia pulp, insulation pulp, asbestos cardboard, asbestos fabric, asbestos yarn, spray asbestos.
Other
Asbestos can also be found in oil lamps (wicks), in older vessels (insulation in hulls, around machines), electrical cables, brake bands, screw plug mass (predecessor to today's plastic plugs).
Contact persons
Catarina Wernlund
Head of Environment
Phone: +46 (0)31-65 64 93
Catarina Wernlund
Head of Chemistry
Phone: +46 (0)31-65 64 93
first.lastname@safecontrol.se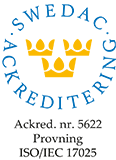 Accreditation
Safe Control Materialteknik AB is accredited since 2002 and has had flexible accreditation since 2016.
All testing takes place against European and international standards.
See our Scope of Accreditation »