Education
Our business-oriented educations focus on material and environmental technology. The main purpose is to contribute to our customers' development. Deepen insights and updates in laws and regulations. Our educations are led by selected and independent experts.
Safe Control's training program is aimed at our areas close to operations, i.e. in Environmental Technology (environmentally and health hazardous substances) and Materials Technology (metallic materials). Our educations are led by an independent, well-qualified expert or one of our internal experts. In all training, we place great emphasis on the practical where possible, for exemple with demonstrations in our laboratory, something that is much appreciated by our participants.
Environment
August 
November

Metallic materials
October

Contact person
Catarina Wernlund
Head of Education
Phone: +46 (0)31-65 64 93
first.lastname@safecontrol.se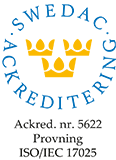 Accreditation
Safe Control Materialteknik AB is accredited since 2001 and has had flexible accreditation since 2016. 
All testing takes place against European and international standards.