Deep drawing of metals allows the manufacture of seamless and complex details created from a single piece, such as soda cans and sinks.
Deep drawing, which is also called tensile pressing, deep pressing and stretch pressing, is a  manufacture method where the material forms a seamless detail with the help of high pressure force. The manufacturing method places high demands on keeping track of the material's properties and tensile strength.
Safe Control performs a mechanical test where the toughness and tensile properties are tested. The sample is inserted into an opening through the test head and the holder is adjusted for the sheet thickness using the supplied scale. The test head is manually pulled towards a stop on the locating sleeve which clamps the sample with a force of 10 kN. The coupling pin is pulled outwards from the locating sleeve, the test head is turned clockwise and the coupling process is started.
The achieved value of the cupping test is displayed on a digital counter. The forming process and the appearance of the crack can be observed in a convenient way by looking down into the holder.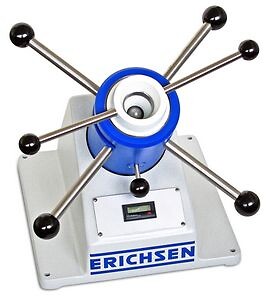 Destructive testing
Ericsen model 100 is a bench-mounted sheet metal testing machine. Testing is performed by destructive testing and the material may be up to 2 mm in thickness.
Contact person
Harald Fredriksson
Head of Mechanical Testing

Phone: +46 (0)31-65 64 98
first.lastname@safecontrol.se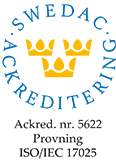 Accreditation
Safe Control Materialteknik AB is accredited since 2001 and has had flexible accreditation since 2016.
All testing takes place against European and international standards.
See our Scope of Accreditation »