Tensile testing is one of the most common methods in mechanical testing. The method is used to characterize the strength properties of a material.
We can perform tensile tests up to a test force of 600,000 N (approx. 60 tonnes) where the breaking limit, yield strength, elongation and contraction can be evaluated.
In our Mechanical Workshop, the test rods are manufactured for tensile testing.
Typical applications:
Testing of rebar, up to 32 mm
Testing of screw connections
Determination of yield strength, elongation at break and area reduction on standardized test rods.
Scope of Accreditation
SS-EN ISO 6892-1

SS-EN ISO 15630-2

ASTM E8

ASTM E8M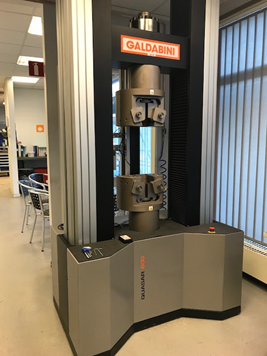 Tensile tester Quasar kN 600
Our new tester from Galdabini complements our previous tensile tester, which enables us to handle larger volumes of testing.
Contact person
Harald Fredriksson
Head of Mechanical Testing
Phone: +46 (0)31-65 64 98
Andreas Alm
Head of Mechanical Workshop
Phone: +46 (0)31-65 64 96
first.lastname@safecontrol.se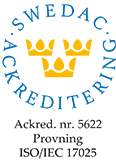 Accreditation
Safe Control Materialteknik AB is accredited since 2001 and has had flexible accreditation since 2016.
All testing takes place against European and international standards.
See our Scope of Accreditation »