Safe Control's policy and terms
Safe Control Materialteknik works actively with issues concerning the environment, sustainability, quality and personal integrity. 
Contact us today!
info@safecontrol.se
Contact persons
Lars Andersson
CEO
Phone: +46 (0)31-65 64 86
Johan Ageryd
Quality Manager
Phone: +46 (0)31-65 64 94
first.lastname@safecontrol.se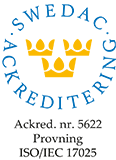 Accreditation
Safe Control Materialteknik AB has been accredited since 2001 and has had flexible accreditation since 2016.
All testing takes place against European and international standards.
See our Scope of Accreditation »