The test is performed in order to ensure the quality of fixation welded reinforcement, reinforcement bars and reinforcement beams.
The test methods we perform include tensile testing, bending testing, dimensional control and shear testing. Upon request from the customer, we perform analysis of chemical composition.
Safe Control currently handles testing of reinforcement with dimensions up to 32 mm. We take care of testing of reinforcement bars with larger dimensions via a subcontractor approved by us.
The test results are evaluated according to national and international standards.
Optical geometry measurement system
The test object is captured optically from different angles by two to three high-resolution CMOS cameras (black and white) displayed in a window on the computer screen.
For the measurement, the samples must have a length of at least 200 to 500 mm.
Scope of Accreditations
SS-EN ISO 6892-1

SS-EN ISO 15630-1

SS-EN ISO 15630-2
Contact person
Andreas Alm
Head of Engineering Workshop

Telefon: 031-65 64 96
first.lastname@safecontrol.se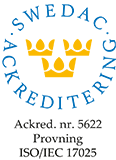 Accreditation
Safe Control Materialteknik AB is accredited since 2001 and has had flexible accreditation since 2016. 
All testing takes place against European and international standards.