Short, knowledge-enhancing in-house seminars where we lecture on a specific topic for about two hours. You decide when and where the seminar is held.
The seminars can be based on your business and organization. We can implement them with you or with us. 
A popular topic is about asbestos with Catarina Wernlund as lecturer. Catarina has about 30 years of experience in analyzes regarding asbestos and other substances that are hazardous to the environment and health.
Topics covered during the seminar on asbestos are: 
Health risks and diseases
What is asbestos and why it was used
Where asbestos can be found
Rules and regulations
Requirements and responsibilites
Inventory
Sampling and analysis
Contact person
Catarina Wernlund
Head of Chemistry

Phone : +46 (0)31-65 64 93
first.lastname@safecontrol.se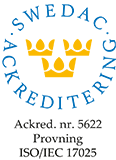 Accreditation
Safe Control Materialteknik AB has been accredited since 2001 and has had flexible accreditation since 2016. 
All testing takes place against European and international standards.
See our Scope of Accreditation »