Infrastructure & Steel Construction
We have extensive experience of material investigations of reinforcement, steel and concrete. In combination with all current knowledge in national and international standards, we guarantee safe and reliable test results.
Contact person
Catarina Wernlund
Head of Marketing
Phone: +46 (0)31-65 64 93
Andreas Alm
Head of Mechanical Workshop
Phone: +46 (0)31-65 64 96
first.lastname@safeontrol.se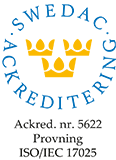 Accreditation
Safe Control Materialteknik AB is accredited since 2001 and has had flexible accreditation since 2016.
All testing takes place against European and international standards.
See our Scope of Accreditation »