Quality assurance of metals for climate-smart energy systems is one of our key industries. We have much experience of conducting tests for safety-classified operations in accordance with high safety requirements.
Contact person
Catarina Wernlund
Head of Marketing
Phone: +46 (0)31-65 64 93
Lars Andersson
Head of Breakdown and Damage Examinations
Phone: +46 (0)31-65 64 86
first.lastname@safeontrol.se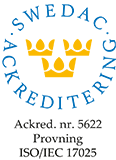 Accreditation
Safe Control Materialteknik AB is accredited since 2001 and has had flexible accreditation since 2016.
All testing takes place against European and international standards.
See our Scope of Accreditation »