Being accredited means that a company or organization has received impartial and international approval of having the competence, systems and routines to perform certain specific tasks within testing, control and certification.
Safe Control Materialteknik AB was accredited by Swedac in the same year the company was founded in 2001. Our accreditation number is 5622.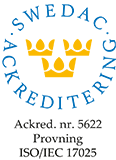 Flexible accreditation
In May 2016, we were approved for flexible accreditation, which means that Safe Control Materialteknik has the right – between Swedac's regular inspection visits – to upgrade, add and change the scope of its accreditation, without notifying Swedac in advance. At the next inspection visit, Swedac will assess the changes in methods that have been made within the framework of flexibility.
With the flexible accreditation, this means that the laboratory can offer its customers accredited services, where you can use the standards required within the framework of the measurement principle, provided that you follow your (Swedac) approved routine for, among other things, validation, verification and competence requirements.
Decision rule
At Safe Control Materialteknik, we use, unless otherwise stated, a decision rule which means that we do not take into account the stated measurement safety when comparing against standard requirements or customer requirements.
If the customer wants to apply another decision rule for assessment of the result of the test, this must be agreed during the contract review and a discussion about whether Safe Control can meet these requirements and whether Safe Control may have to say no to the assignment.
Permits
Safe Control Materialteknik holds the following permits:
The Swedish Work Environment Authority


Testing, examination and handling of asbestos-containing material.

Swedish Radiation Safety Authority


Use, possess and transport smaller sources of radiation, such as PMI equipment with cadmium isotope.
Contact persons
Johan Ageryd
Quality Manager
Phone: +46 (0)31-65 64 94
Lars Andersson
CEO
Phone: +46 (0)31-65 64 86
first.lastname@safecontrol.se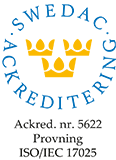 Accreditation
Safe Control Materialteknik AB has been accredited since 2001 and has had flexible accreditation since 2016.
All testing takes place against European and international standards.
See our Scope of Accreditation »