Welcome to a full-day training that clarifies the use and design when it comes to fasteners in steel structures.
The training is focused on giving the participant a broad knowledge platform, both theoretically and practically. The course deals with the importance of choosing the right dimension and strength class, and the importance of choosing the right torque and lubricant. 
Objectives
The education includes the following elements:
 
Breakdowns and causes
What is safe and rational installation
Material types 8.8, 10.9, 12.9, etc
Standards and labeling
Screw connection: Hard and soft respectively
Tightening pattern
Mounting torque
Surface treatments
Practical steps in the laboratory
Date
October 17, 2023
Length
8 hours
Fee
SEK 4 950 per person
(excluding VAT)
Place
Safe Control Materialteknik AB
Tillgängligheten 1
417 10 Göteborg
Application deadline
October 3, 2023
Registration
anmalan@safecontrol.se
State the name of the education as well as the participant's name and e-mail.
Are you many?
Contact us for a quote.
Course certificate
Certificates are issued after completing the training.
Lecturer
Fred Egman, Sales Manager Service at Atlas Copco. Fred has previously been production manager at fastener manufacturers, screw joint technical manager and has experience from technical support.
Fred has also been active for 15 years in the former SIS Technical Committee 103 fasteners globally for EN and ISO.
Contact person
Catarina Wernlund
Head of Education

Phone: +46 (0)31-65 64 93
first.lastname@safecontrol.se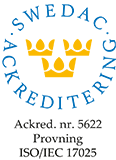 Accreditation
Safe Control Materialteknik AB is accredited since 2001 and has had flexible accreditation since 2016. 
All testing takes place against European and international standards.
See our Scope of Accreditation »