Safe Control Materialteknik works according to the following environmental policy.
Must safeguard the internal and external environment as well as the health of its employees.
Work for continuous improvement and prevention of pollution.
Comply with applicable environmental legislation as well as regulations and other requirements that affect the company.
Establish and follow up overall and detailed environmental goals.
Show openness in environmental issues to authorities, the general public and other stakeholders.
Inform and train their staff.
Environmental work must be an integral and natural part of the business.

Safe Control Materialteknik has an environmental management system according to SS-EN ISO 14001.
We strive to follow and maintain the same in accordance with the requirements set out in the standard.
The system includes:
Environmental handbook
Quality manual
Established routines and instructions
Contact persons
Lars Andersson
CEO
Phone: +46 (0)31-65 64 86
Johan Ageryd
Quality Manager
Phone: +46 (0)31-65 64 94
first.lastname@safecontrol.se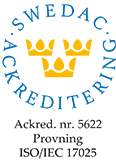 Accreditation
Safe Control Materialteknik AB has been accredited since 2001 and has had flexible accreditation since 2016. All testing takes place against European and international standards.