Invitation to daily tours of the laboratory during week 45
As part of our 20th anniversary celebration, we are arranging guided tours of the laboratory on November 8-12.
When we celebrated our anniversary in September, the tours were very much appreciated, so we repeat the success.
For those of you who are curious about what a material laboratry does or simply want to know more about Safe Control, sign up below.
If you have a special interest in any of the areas – state this when registering and we will try to satisfy it.
When
Week 45, November 8-12, 2021
Between 10.00-11.00
Registration
Please state your name, company, email address and desired day, and we will return with a confirmation. Limited number of people per day applies. The tours are free of charge.
Do you want to know more?
Contact Catarina Wernlund: +46 (0)31-656493.
The winners of our anniversary competition
Congratulations to the winners of our quiz that was held at the anniversary celebration on 16 September.
Congratulations Tomas Eriksson!
You had nine right answers in our quiz. Were these difficult questions?
– Yes, we work mainly with building materials and not metallic materials, so you had to pay attention when your boys and girls described what they did in the different departments.
You managed to put the deciding question exactly – how did you know this?
– I have come here for over 20 years with samples and my boss even longer, so I had to count a little and then added a few years.
Did you find out anything during the tour that you did not know before?
– I think it's fun with technology and liked to see all your equipment on both floors. And I didn't know that you did PCB analyzes, so it was a good surprise, because we need to do that analysis from time to time.
Tomas told us that he received his winning email on his 60th birthday and when he picked up the gift card, he celebrated his wedding anniversary. We would like to congratulate you once again, Tomas, and wish you a pleasant meal at one of the city's all restaurants!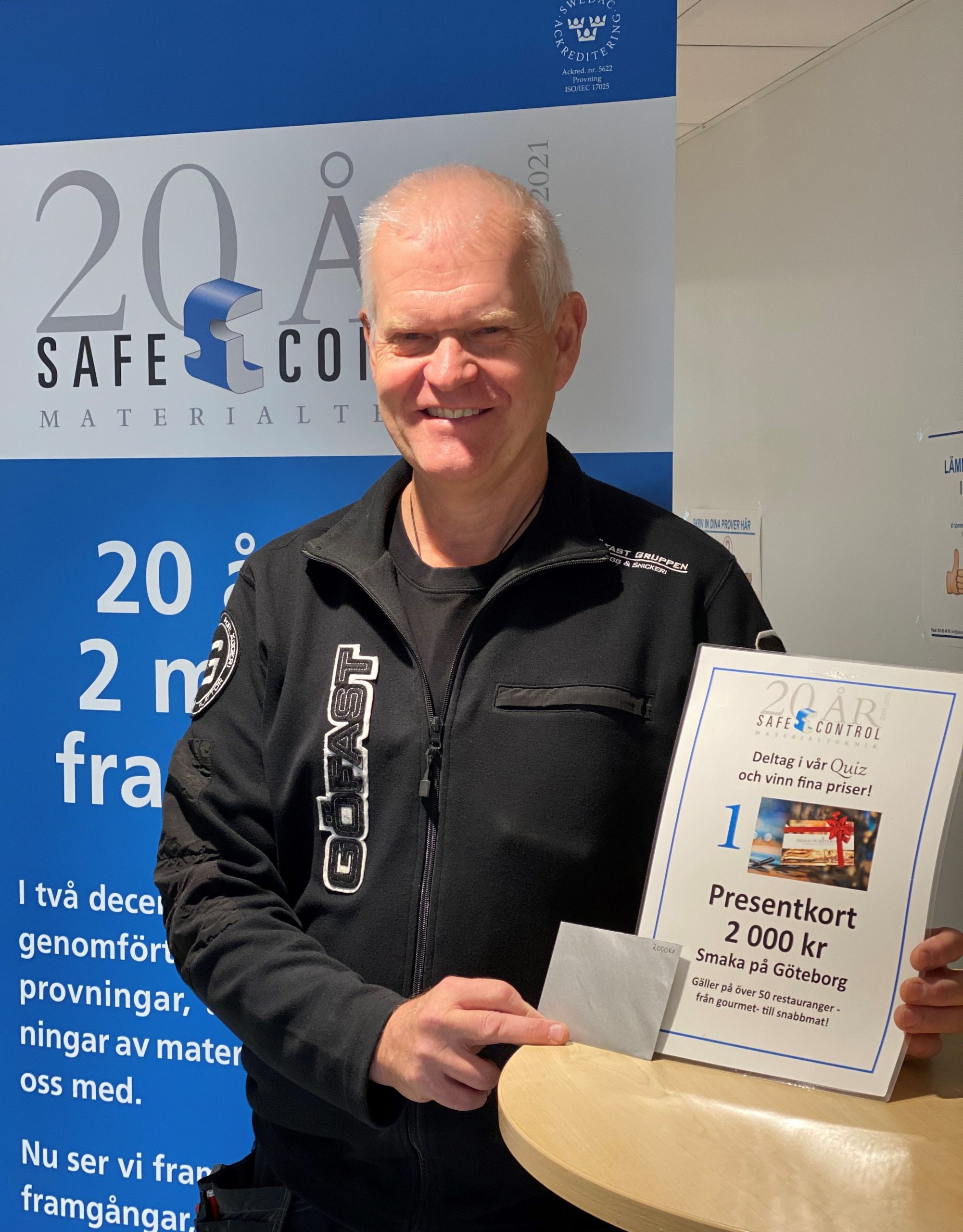 Tomas Eriksson
Göfast Gruppen AB
First prize | 2 000 SEK
Gift card: Taste Gothenburg
You get a good response here at Safe Control and it is never a problem to submit material, choose analysis time and you usually get test results before the set time!
Congratulations Sven-Gustav Ekholm!
You had nine right answers in our quiz. Were these difficult questions?
– It was difficult enough. I have worked with workshop work all my life, so that bit was no problem. Environmental questions, on the other hand, were a little trickier.
You were not so far from answering the deciding question correctly. How did you reason out the answer?
– I thought that it is probably about the same age of the three co-owners and that they had the same length of work experience in this, so 30 years per person.
Did you find out anything during the tour that you did not known before?
– It was interesting to know that you not only test metals but also PCBs and other things. I did not know that there was so much PCB and asbestos left in Sweden.
We congratulate you again on the win and hope that you will enjoy good dinners with ingredients from Saluhallen soon!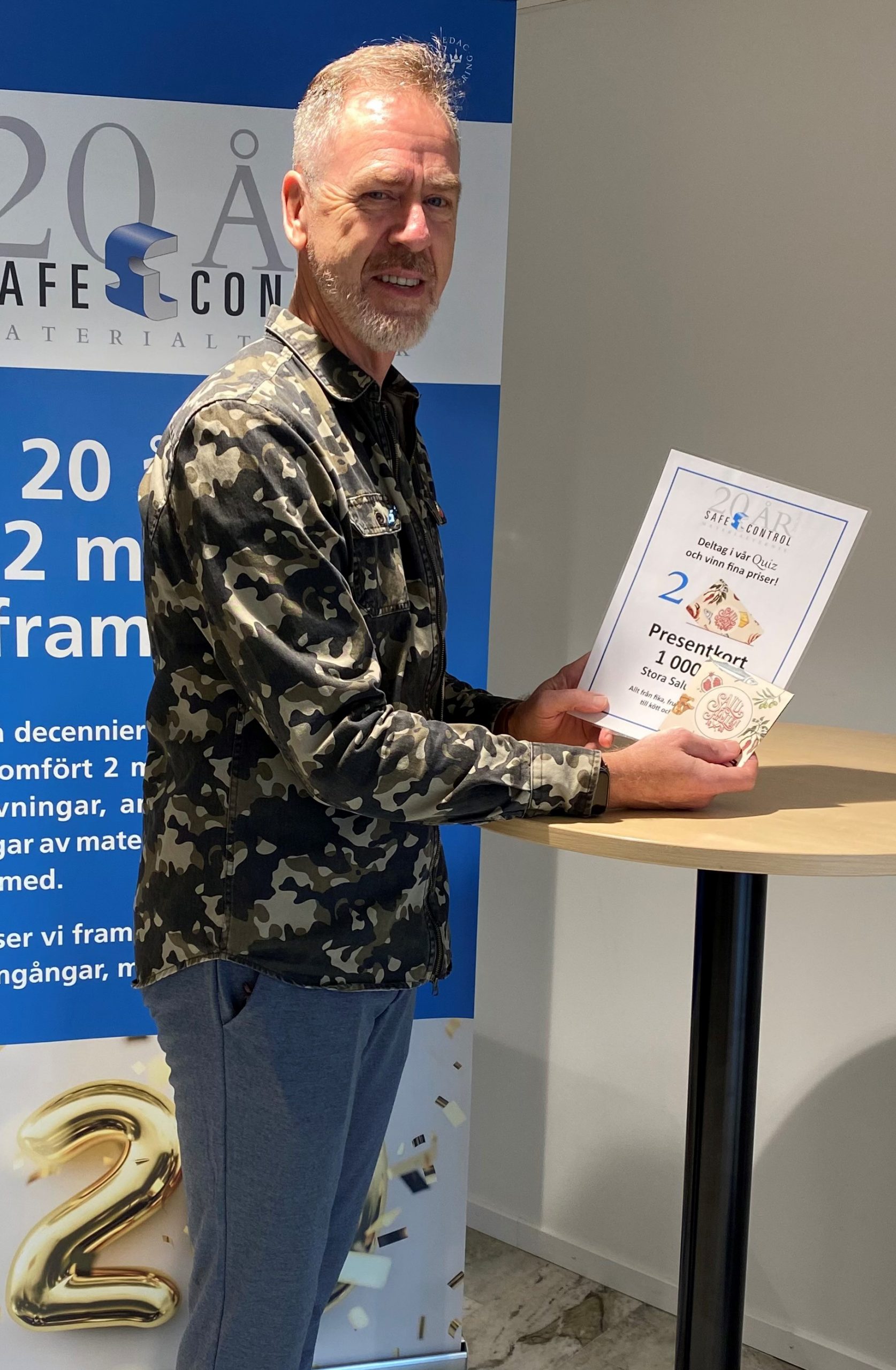 Sven-Gustav Ekholm
Arcos Hydraulik AB
Second prize | 1 000 SEK
Gift card: Stora Saluhallen
Congratulations Manoj Parmar!
Manoj Parmar at TR Fastenings won third prize:
A gift card of 500 SEK at Mr Cake.
We have new dates for the following educations:
2021-11-17 | Asbestos, basic (half day)
2021-11-18 | Asbestos, management (full day)
2021-11-24 | Materials science (full day)
2021-11-25 | Interpretation of material certificate (full day)
See our program